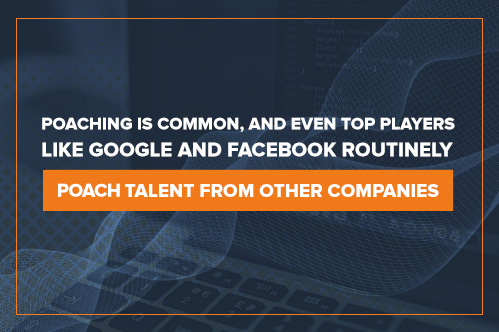 Tech companies aren't the only organizations actively looking for experienced talent in emerging technologies like artificial intelligence (AI) and machine learning. Leaders across a mélange of industries like financial services and various types of consulting are strategically sourcing top technical talent to power future business goals – which means competition is stiff for technologists with these skills.
Unfortunately, because AI and machine learning are still evolving rapidly, the market doesn't have the talent yet. It's a classic case of high demand, low supply, so savvy organizations are ramping up their internal learning strategies and securing key partnerships with learning solutions providers to develop what they can't find externally.
To exacerbate the issue, most companies don't have the internal learning resources and expertise needed to create highly technical training programs to bring their current talent up to scratch. So, they take shortcuts. Poaching is common, and even top players like Google and Facebook routinely poach talent from other companies.
For organizations that don't have the capital to compete with salaries and other benefits, training is a viable solution to secure these high-level skills. Here are five machine learning and AI roles you need to train for now to ensure your organization doesn't get left behind.
Cybersecurity Engineer
Sometimes it seems like, another day, another hack, right? There's no shortage of stories about well-known global organizations falling prey to security breaches, and their customers valuable information – not to mention their reputations – takes the hit. It's why cyber security engineers have topped many lists for in demand tech talent for the past few years.
These engineers design and implement security systems to stop external threats. They need a broad base of knowledge and skills to develop security plans and policies. They also identify system vulnerabilities, maintain those security systems, track and respond to security incidents, investigate breaches, and otherwise assess and reduce an organization's risk and stress in an occasionally dangerous marketplace.
Machine Learning Engineer
Machine learning engineers are in extremely high demand and have been for the past few years thanks to the increasing use of AI and machine learning across various industries. Companies are trying to figure out how to optimize and automate their businesses, and make their day-to-day work lives easier and more productive. These highly skilled programmers work with complex data sets and algorithms to train intelligent systems and develop AI machines that give businesses a competitive edge in the global marketplace.
Chief Data Scientist
Contrary to some beliefs, advances in artificial intelligence and machine learning will not make the chief data scientist role obsolete. On the contrary, AI and machine learning are just one subset of data science. One estimate suggests that by 2020, there will be more than 2.7 million data science and analysis jobs available in the US alone as organizations try to make sense of and use the deluge of data most have to contend with daily. Filling those jobs, however, will be a challenge without training.
The chief data scientist needs a broad range of skills including research and data collection, and should know how to establish an AI architecture, develop new software applications and strategies as well as create statistical models. Those in the role will make use of AI to simplify repetitive tasks so they can focus on identifying and communicating data science-related business opportunities.
Artificial Intelligence Architect
AI architects are in high demand as well, and require not only considerable experience to be effective, the role needs a deep and vast array of skills to help develop frameworks that support enterprise technology and shared service functions that use AI and cloud computing. Unlike in some other AI roles, technical expertise and strong business acumen are a great combination, but not one that's thick on the ground for recruiters.
AI architects have to not only create and maintain architecture using AI technology frameworks, they must be able to translate client needs into actionable business solutions. Like the chief data scientist, those in this role have to analyze and leverage data to make business decisions, which requires a deep and vast understanding of AI applications, multiple programming languages like Python, specific infrastructures and machine learning. It also helps if these technologists are plugged into all of the latest trends.
Artificial Intelligence Research Scientist
It's the artificial intelligence researcher scientist's job to understand and develop AI systems through a long-term, academic lens. An individual in this role often partners with other technologists to develop models for trading, market and alternative data. The person may even help recruit other AI talent and represent their companies in external forums.
Research scientists are often more focused on scientific discovery than with workable applications for their findings. Their focus is on innovation and experimentation, which is why partnerships with fellow technologists who can apply their discoveries in a practical way are so critical. Many are experienced in both data and computer science, so they can contribute in a data science sense and write code when necessary. The nature of their work is emerging, just as AI is emerging, so their skills must constantly evolve as well.
Conclusion
Senior-level engineers with knowledge and expertise in AI and machine learning have more job opportunities than most. They're in high demand, and organizations need alternate strategies outside recruiting to secure this kind of talent. That's why highly customized, high-quality technical training is so important.
Companies have to find ways to develop in their workforce what the market cannot provide. Further, choosing the right technical training partner is not just about finding the classes or programs around the desired subject matter. It's about setting talent up for success using proven learning and development strategies like deploying experienced practitioners as teachers, and creating intense labs where theory takes a back set to practice as learners write code, and engage in targeted peer-learning exercises with their fellow participants.
These kinds of labs and peer learning opportunities tap into another skill set that all of the aforementioned technical roles need – soft skills. Each of these valuable technologists must be able to effectively communicate their findings to various stakeholders up and down the chain of command. Learning solutions providers like DevelopIntelligence can hone technologists' ability to communicate complex ideas quickly and simply while simultaneously developing deep technical knowledge and problem-solving capabilities. This is what businesses need to survive today and thrive tomorrow.
https://s3-us-east-2.amazonaws.com/ditrainingco/wp-content/uploads/2020/03/08125616/image-2.jpg
332
499
Kellye Whitney
https://www.developintelligence.com/wp-content/uploads/2019/11/Develop-Intelligence-logo-h.png
Kellye Whitney
2020-03-09 17:10:22
2020-05-08 12:56:45
Train for These 5 Machine Learning and AI Roles Now