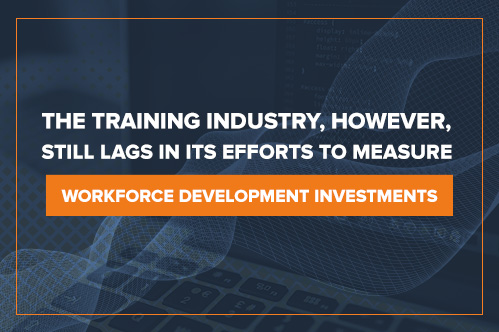 The importance of data, it's measurement and use in making more effective business decisions is now universally accepted across almost every industry. The training industry, however, still lags in its efforts to measure workforce development investments.
Unfortunately, there are no universal standards or metrics with which to measure how well people learn, and the common learning measurement practices companies engage in are often more subjective than objective. So, while it's not impossible to get hard numbers to say, this training program created this business impact, many training leaders don't bother – it's too much work. They fall back on their certainty that development has a positive impact on the workforce, and therefore it has a similarly positive impact on the business.
Unfortunately that attitude isn't cutting it these days. Resources are tight, budgets are even tighter, and leaders have to prove their worth with more than theories and beliefs. We know that talent is key to a successful business, and we know that training that talent moves the business needle forward, but we have to be able to quantify how much. Learning leaders know it too, and their measurement practices are evolving.
Before You Measure, Set the Right Goals
One of the most important things when measuring training impact is to set the right goals before an intervention begins. Further, training goals and business goals should be closely aligned. Explicit goal setting makes it easier to determine if a training program is a success.
Let's say an organization has contracted a technical training company like DevelopIntelligence to create and deliver a customized class on Java programming for entry-level developers. Before the class begins, learning leaders should have identified what they hope to accomplish long term. What business problem will this training help to solve? How will this cohort use the Java programming skills they'll acquire in class on the job? Are there certain business critical projects where this skill will be necessary?
If an organization is has trouble identifying the right goals, a good training partner will help them to tease out the goals that make the most sense, and then create customized learning solutions to achieve them. Planning in advance allows the training partner to better identify any skills' gaps within the organization, design a program aligned to a company's business objectives, and deliver the biggest outcomes and ROI.
Further, to add more depth to a value determination around training ROI, learning leaders might want to follow up in three months or a certain period of time to see how well learners have been implementing what they learned on the job, and what impact their performance has had on their department, project, etc.
If You Don't Train Them, Someone Else Will
Another consideration leaders need to consider when it comes to training as a business investment is rooted in organizational culture and training's impact on talent. Basically, if you don't build a learning culture in your organization, making it a priority to frequently offer targeted training programs, technical talent will leave and find an organization that will.
According to data from the Execu/Search Group's 2019 report "The Employee Experience: 4 Ways to Attract, Engage, & Retain Employees in Today's Competitive Market," 86 percent of professionals said they would change jobsif offered more opportunities for professional development.
Technical professionals know that to thrive they must continuously learn new skills and keep up with the rapid pace of technology. It's really not even a question of thriving in the workplace, it's a question of surviving in the workplace. A tech pro's value is linked to his or her ability to provide value by creating business applications for emerging technology and/or ensuring the tech infrastructure an organization already has in place runs smoothly and efficiently.
Training and Culture Work Hand in Glove
As a practice, measurement gets easier the more its done. There may even be metrics learning leaders can adapt from related aspects of an organization's talent management practice. Training impacts most facets of the employee lifecycle from recruiting to engagement, performance, advancement and retention, all of which play a role in organizational culture. Consider, a State of the ROI of Learning Report from Udemy for Business revealed that 30 percent of high engagement companies spend an average of $2,000-$2,500on each employee annually. Only 7 percent of low engagement companies make the same investment.
More important, learning must be well positioned as a promoted asset as soon as talent enter an organization to reap benefits associated with increased performance, more effective onboarding and employees becoming productive faster. "Since we don't know exactly what skills the future will demand, a growth mindset can spell the difference between keeping current with the latest shifts instead of struggling to catch up," said a June 2018 Forbes' article. "It's critical to invest in learning from day one, even for employees just entering the workforce. From programming languages to personal development, continuous learning will…foster an agile and innovative workforce."
While the frequency and quality of training offerings is key, it's not the only important factor in establishing a thriving learning culture. Culture means creating not only the right training content and delivery systems – or aligning with the right training partner to provide those things – it means giving technical talent the time and space they need to fully engage with learning when they need it.
For instance: Does your organization encourage mentoring and peer-to-peer learning? Does it empower and enable leaders and employees to experiment and try new things knowing that it's safe to make mistakes? Does it reward these behaviors, knowing that they are the foundation for growth and self-improvement? Do leaders actively participate in training programs? There is nothing as effective as the workforce seeing a specific behavior actively modeled from the top of the house.
Conclusion
Things move so quickly, providing the right training and delivering it the right way when people need it is one of the only ways organizations can keep pace with technology change. In a strong learning culture, technical talent will be empowered to pursue opportunities to learn whenever they need them.
Learning leaders can build a culture where learning thrives by establishing partnerships with training providers that will work closely with them to provide the latest, high quality training on emerging and established technologies, and then setting specific goals they can measure to prove that strategic training interventions have a clear ROI for the business.
https://s3-us-east-2.amazonaws.com/ditrainingco/wp-content/uploads/2019/11/20172446/right-training-investments.jpg
332
499
Kellye Whitney
https://www.developintelligence.com/wp-content/uploads/2019/11/Develop-Intelligence-logo-h.png
Kellye Whitney
2020-03-09 17:10:25
2020-03-09 17:10:25
The Right Training Investments Are Worth Every Penny